Automated Antivirus / Malware / Ransomware Prevention
We provide Automated / Centrally managed Antivirus / Malware / Ransomware Prevention. Our automated PC and Server Maintenance, are key to a solid I.T. foundation. Your network needs a quality product that takes care of this part of your systems. Our solution is extremely effective. We install it on your systems, you forget about it, we manage it to makes sure it is doing its job. Virus alerts, PC maintenance, patches, and minor software repairs occur in the background. You rarely even know they occur, but we do. The software notifies us, we check to make sure it was cleaned up, and only notifies you if action needs to be taken on your end. With a full maintenance contract, we can do most fixes without involving anyone in your company, and support most Windows software. We will install a complete desktop and/ or server anti-virus, monitoring, and maintenance solution. All you have to do is subscribe. That's it, there are no other fees. You can cancel any time you want.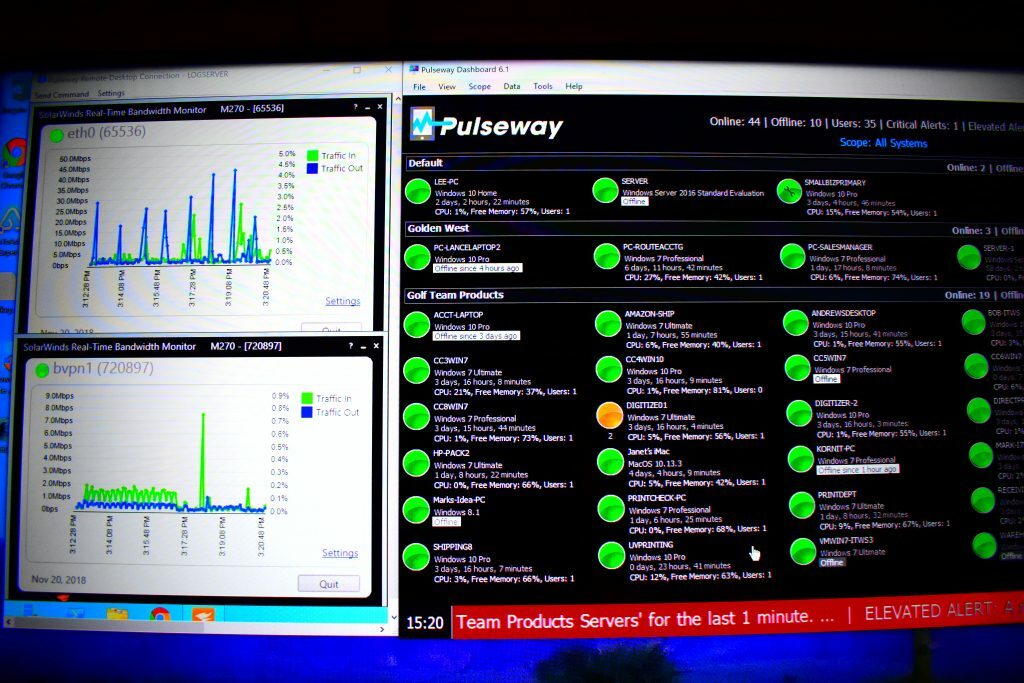 Benefits at a glance
Great Malware, Antivirus, and Ransomware detection
Scanner Always up to date if your computer is on the internet.
Monitors file changes in mass – looking for encryption replication behavior
Checks file intentions on new files before they open
Warns you if an untrusted application performs low-level actions
Verifies system modifications before they are made
Prevents untrusted applications from modifying Kernel files
Prevents any application from altering your host file – This is critical as many viruses mask DNS entries using the host file
Blocks malicious websites in the browser
Anti-phishing tool guards against phishing schemes
Can block your users from bypassing malicious website-warnings
Verifies a website's identity before allowing the site to come up
Blocks websites from collecting high risk tracking information about you
Prevents programs from accessing your protected credentials
Prevent keylogging programs from running on non-Latin keyboards
Automated PC maintenance Hard drive, memory
Monitor your PC's, Mac's and Windows Servers
Install Windows patches Windows Server 2012 and later.
Install Windows patches Windows 10 or later
Notify on application install, update
Notify on resource usage such as memory near full use
7- a.m. to 5 – p.m. PST – No fee Phone Support services, and Remote support services at one low flat per workstation monthly fee. (Support is limited to malfunctioning applications and hardware, new users, adds moves changes, verifying server backups, maintenance. Operating System upgrades are done at or normal hourly rates. Application programming is not something we do not do but can arrange.) After hours (5:00 p.m. Pacific time), weekends and holidays are billed at a current hourly rate.
If we are not performing, just call and cancel. We have a no-hassle guarantee. We do want to know why your not happy so we can improve the product for others, but you will not be asked to purchase anything else. Your happiness is our priority!
Leave us your name, phone number, and a brief explanation of your needs in the form below. Someone will get back to you shortly, to give you a solid quote. You can also email: Athena@smallbizpc.com for more information.
Sign up now, call us today at (503) 877-3557.